Recent Reading and Viewing Pleasures
We watch a lot of movies... well hubby does, and I halfway pay attention while I scrap. And I'm a BIG TIME bookworm... so I thought it would be fun to post randomly about different books and movies that I've enjoyed. Whatcha think?!?!


Just finished reading Ricochet by Sandra Brown... LOVED IT!! VERY good read!!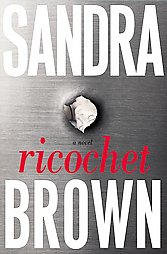 Synopsis
:
When Detective Sergeant Duncan Hatcher is summoned to the home of Judge Cato Laird in the middle of the night to investigate a fatal shooting, he knows that discretion and kid-glove treatment are the keys to staying in the judge's good graces and keeping his job. At first glance, the case appears open-and-shut: Elise, the judge's trophy wife, interrupted a burglary in progress and killed the intruder in self-defense. But Duncan is immediately suspicious of Elise's innocent act. His gut feeling is that her account of the shooting is only partially true--and it's the parts she's leaving out that bother him. Duncan investigates further and quickly finds his career, as well as his integrity, in jeopardy--because he can't deny his increasing attraction to Elise Laird, even if she is a married woman, a proven liar, and a murder suspect.--From publisher description.
I do love a good scary movie and this was a good one!! Pretty dang creepy!!!
Plot:
An ex-cop and his family are the target of an evil force that is using mirrors as a gateway into their home.
And... I can't WAIT until LOST starts back up on Wednesday night, WOO-HOO!!! I am HOOKED on this show!!! Who's with me??
Oh, and if you happen to have any good book or movie recommendations, please comment away and let me know!!