Kreativ Blogger Award
I was THRILLED to receive this lovely award again, this time from my good buddy Bethy from over at Scraps-N-Such. Just love that message board, and all the ladies there are just great!!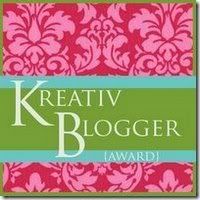 The rules of the Kreativ
Blogger
award:


1) The winner may put the logo on their blog. (Copy image to your computer)
2) Put a link to the person who sent you the award.
3) Nominate 5 blogs.
4) Provide links to their blogs.
5) Leave a message for your nominees on their blog letting them know you have nominated them.
Here are my five blog choices (this is always the hard part as I visit LOTS of blogs)... Wendi, Nathalia, Pam, Sandie, and Sarah.

Thanks so much Bethy for the awesome award!!