Happy Birthday Card
Came across another new and way fun card blog... 365 Cards... a new card challenge EVERY DAY!!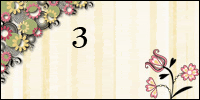 Be sure to check out the fun challenges and oh so cute examples!!


This card was made using Day 13's Challenge... to use mainly red, yellow and blue. I did have a couple of other colors on here, but not much of them. Had fun with it!!