Nominated for a Brillante Blog Award, Oh My!!
I am a little late in doing this, but at least I'm getting to it. One of my bestest scrappy buddies,
Wendi
, nominated me for the Brillante Blogger Award a couple of weeks ago... THANKS SO MUCH my friend!! I'm so very excited!!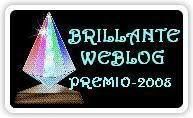 I now have to post the award on my blog (which is done already) and spread the love to five other very deserving bloggers who inspire me... gonna be a hard choice because I have SO MANY I stalk it's not even funny!! My choices to follow soon...