Weekend Scrapping Fun :o)
I can't believe I haven't blogged in a few days, you can tell the Holidays are coming, yikes!!
Had some fun with several of the
12 Days of Christmas Crop
challenges from over at
Scrapbook Heaven
. All projects were made using the OH SO FUN November mid-month kit from
Two Spotted Dogs
. Scenic Route Garland just ROCKS, such fun stuff!!
This first challenge was to alter a notebook. I made mine Christmas themed to use for my gift lists, recipes, and other stuff I will need during the Holidays.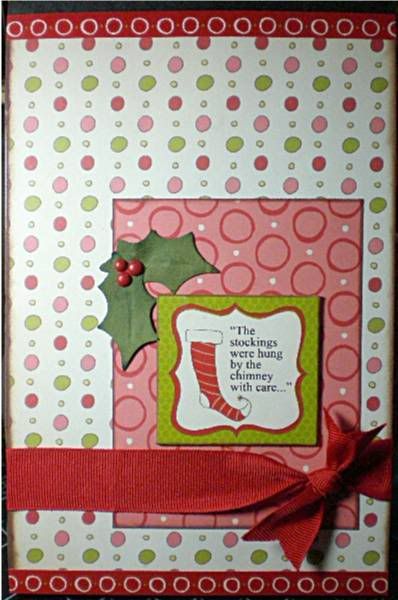 This next card was made for a fun Origami Christmas Tree challenge. Haven't done origami in ages, but had lots of fun with it!!
This next challenge was to make a set of at least 3 cards, all using basically the same supplies.
The last challenge I did was to create a Christmas Tree Ornament. I made mine from a plain chipboard flourish, and heat-embossed and embellished it. Quick and fun!!