Toot, Toot for me!! :)
Just wanted to share with you ladies...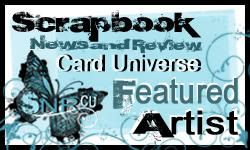 I was asked to be the March Featured Artist over at the Scrapbook News & Review Card Universe Blog. What an honor this is... I was just THRILLED to have received that email!!
Check out the blog post here -->
March SNR Card Universe Featured Artist
. Thanks so much to SNR Card Universe!!!