Blogger Awards, OH MY :o)
Finally getting a chance to start getting caught up on a few blogger awards I've received recently!! I just LOVE all the friends I've made out there in the online, scrappy world... some FAB friends FOR SURE!!
This first award is the
Kreativ Blogger Award
and was given to me by
Kristie Sessions
. I've been following her blog for some time, and she's just the sweetest person, as well as WICKED talented!! Thanks Kristie!!!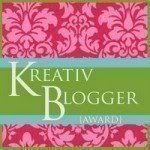 Will do some thinking on this one, and post my nominations soon!!!
This next award is the
"You Inspire Me Award"
and is from another super sweet and talented scrapper,
Joanie
. Just love visiting her blog and seeing what she's been up to lately!! Thanks Joanie!!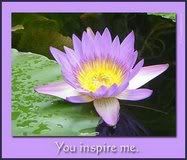 The rules of this award are to please post this award on the side of your blog. Then please send this award to 6 amazing scrappers/bloggers that INSPIRE you also!
I nominate:
ALL OF MY READERS!! Whoever wishes to take the rules on, can snag the Inspire Me award, post it to your blog, and get to nominating!! :o)