Random Organization Tools & Ideas ~

Fun

Colored

Storage
If you know me, then you know I LOVE me some color!!! When I saw these fun colored storage boxes and magazine holders, I just HAD to have them!!!


I found these
COOL magazine holders
at one of my fave "catalog" sites, Collections, Etc. PERFECT for my scrappy mags!!!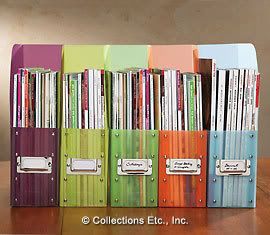 And CHECK IT OUT... I found the matching storage boxes at another fave "catalog" site, LTD Commodities. SO FUN!!!